ESET Endpoint Security Business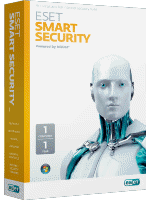 ESET Endpoint Security Business Edition is a new deeply integrated solution providing endpoint security for all sorts of businesses of all sizes. ESET Endpoint Security brings the speed and preciseness of ESET NOD32 Antivirus and its powerful ThreatSense® engine and combines it with custom engineered firewall and antispam solutions thus creating a form of artificial intelligence constantly vigilant in keeping computers safe from malware and other internet threats. With its smart approach ESET is taking heuristics to the next level. The ESET Smart Security Business Edition additionally features the ESET Remote Administrator tool to ensure smooth updating and centralized administration in business environments. ESET Remote Administrator offers centralized management of all machines in a local or wide area network for easier setup and faster administration. ESET Smart Security Business Edition insures optimal PC and networking performance by saving bandwidth usage.

ESET Smart Security has been built from the ground up to provide maximum functionality with a minimum system footprint. Unlike other clumsily bundled security suites ESET Smart Security concentrates on the essentials utilizing advanced technologies in proactive detection to ensure comprehensive protection against viruses, trojans, worms, adware, spyware, phishing, rootkits and other internet threats while ensuring a smooth and unburdened performance of workstations and productivity of employees.








Key Benefits

Key Benefits

Fully Integrated Protection
ESET Smart Security offers comprehensive protection using Antivirus, Antispyware, Personal Firewall and Antispam. These components have been built from the ground up as a single package to provide supreme functionality and synergy. The deep integration of these elements ensures supreme protection, record breaking performance and speed.

Smart Detection
ESET created a form of security oriented artificial intelligence which is exceptionally efficient at detecting malicious behavior. ESET Smart Security focuses on smart detection of malware utilizing advanced heuristics to help protect from unknown threats and generic signatures and genetic technology to help detect unfamiliar mutations of known malware. Computers are most vulnerable to internet threats during the window between the virus outbreak and the signature update. Our ThreatSense® technology minimizes the vulnerability during this window.

Extremely Light System Footprint
The unique build of ESET Smart Security has been optimized during the past few years to perfectly match the system environment. ESET engineered a smart solution with the lowest system footprint on the market insuring the fastest startup and smooth performance. Users won't even know it's there, constantly offering comprehensive protection.

Central Remote Administration
The ESET Remote Administrator and Mirror components make sure that the installation and later administration of ESET Smart Security will be absolutely hassle free. A minimal amount of endeavor will be needed to manage the security in the whole network environment therefore cutting valuable time and costs to a minimum,enabling employees to focus on other essentials.

Detailed Feature Overview

Antivirus & Antispyware Features

Improved Cleaning
The antivirus system now intelligently cleans and deletes most of the detected infiltrations without requiring the users' intervention.

Background Scanning
Mode Computer scanning can be launched on the background without slowing down performance.

Smaller Update Files
Core optimization processes keep the size of update files smaller than in version 2.7. Also the protection of update files against damage has been improved.

Popular E-Mail Client Protection
It is now possible to scan incoming mail not only in MS Outlook but also in Outlook Express and Windows Mail.

Variety of Other Minor Improvements
• Direct access to file system for high speed and throughput.
• Blocking access to infected files
• Optimization for Windows Security Center including Vista.

Personal Firewall Features

Low layer network communication scanning
Network communication scanning on the Data Link Layer enables ESET Personal Firewall to overcome a variety of attacks that would otherwise be undetectable.

IPv6 support
ESET Personal Firewall displays IPv6 addresses and allows users to create rules for them.

Executable file monitoring
Monitoring changes in executable files in order to overcome infection. It is possible to allow file modification of signed applications.

File scanning integrated with HTTP and POP3
Integrated file scanning into the HTTP and POP3 application protocols. Users are protected when browsing the Internet or downloading e‐mails.

Intrusion Detection System
Ability to recognize the character of network communication and various types of network attacks and an option to automatically ban such communication.

Interactive, Automatic or Policy-based mode support
Users can select whether the firewall actions will be executed automatically, or if they want to set own rules interactively. Communication in policy-based mode is handled according to rules predefined by the user or the network administrator.

Supersedes Integrated Windows Firewall
Supersedes the Integrated Windows Firewall, it also interacts with Windows Security Center so the user is always informed about his security status. ESS installation turns off the windows firewall by default

Antispam Features

Incoming Mail Scoring
All Incoming mail is assigned a rating ranging from 0 (a message is not spam) to 100 (a message is spam) transferring the mail into the Junk Mail folder or into a custom folder created by the user. Parallel scanning of incoming emails is possible.

Supports a variety of scanning techniques
• Bayes analysis
• Rule based scanning
• Global fingerprint database check

Full integration with e‐mail clients
Antispam protection is available to users of Microsoft Outlook, Outlook Express and Windows Mail clients.

Manual spam selection available
There is an option to manually check / uncheck e-mail as spam.

Enterprise Security Management Features – ESET Remote Administrator

Centralized Management
Centralized management of ESET Smart Security workstations and servers, increasing protection effectiveness and reducing corporate security costs

Monitoring
Fast virus infiltration localization and virus cleanup, thanks to advanced monitoring and reporting tools

Remote Installation
Remote installation of ESET Smart Security enabling fast comprehensive protection rollout. Support for MSI and custom packages and a diagnose option

Reporting
Automatic and custom report generation giving you an overview on ESET Smart Security activities and helping you maintain a high level of data integrity in your network utilizing a new report template (ESS scheme)

New Features in ESET Remote Administrator 2.0
• extended client identification (MAC address added)
• security enhancements (encryption possibility for all new server clients)
• performance improvements (compression in communication protocol)
• added forwarding of ThreatSense.Net data via ERA server
• GUI improvements (new graphics, enhanced state coloring, extended filters, resizible dialogs)
• new report template (ESS Scheme)
• server performance monitoring (data, queries)

Internal Server Enhancements
• new replication (replication priority, better multi-level replication)
• new database structure (IDs for large tables)
• new directory structure (application data folder)
• internal security improvements (communication protocol, better exception handling, logging, secure information handling)

Support for Version 2 systems
Still supports NOD32 version 2 products

System Requirements

Processor Architecture i386 (Intel® 80386), amd64 (x86-64)
Operating Systems
Microsoft Windows 7
Microsoft Windows 2000
Microsoft Windows XP
Microsoft Windows Server (All versions)
Microsoft Windows Vista
Memory 40 MB
Disk-Space (Download) 18 MB
Disk-Space (Installation) 27 MB






Showing 1 to 28 of 28 (1 Pages)