NOD32 Educational Licensing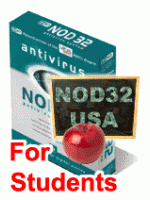 Students can purchase NOD32 at NOD32 Discounted Student rate (proof of student status will be required to process your purchase).

Educational Establishments and Students both qualify for NOD32 Academic Pricing - more details available upon request.

NOD32 Student Discount: You must be able to provide proof of student status. Your Proof of student status will need to be emailed or faxed to us within 7 days of your order being placed!
Pricing for Educational Establishments
Educational establishments (schools, colleges, occupational schools and like) are entitled to purchase NOD32 licensing at a % of retail pricing!

Please complete an online contact form and we will be more than happy to provide you a customized quote.

Information we will need to quote you effectively:

1. number of workstations
2. number of mailservers (and operating systems they run)
3. number of email users you need to protect

if you do not require enterprise features, just the number of workstations + servers are required.

---
Proof of Educational Status will be required!
In order to purchase a NOD32 at educational pricing levels, you must provide us with proof of your educational status.

You may place your order NOW - and provide your proof of status as follows, WITHIN 7 days! Failure to provide proof of status within 7 days and we will contact you to ensure that proof was sent. Proof of status not received in 14 days and we will cancel your educational order.

Proof of educational status is very easy to provide - either of the following are valid proof to obtain educational licensing:

1. for educational establishments: Purchase Order on school letterhead
2. for students - student or other school issued ID card (must be current) and/or letter from a teacher/professor.
3. for teachers, professors or other educators - a letter from your principal or department head on school letterhead.
4. for any educational order - placing the order from an email address connected from a bona-fide school domain - such as a .EDU domain, or your state issued sub-domain - e.g. www.yourschool.k12.yourstate.us (we will verify the domain/website)

You will either need to FAX this proof of status to us:

NOD32 Fax Line: +1-970-593-6257

or

email a scan of the same proofs to:
Please include your ORDER NUMBER so we can expedite your order processing!
---
Educational Renewal
Due to the heavily discounted nature of both Educational an Student Licensing, renewals of these types of license are at 100% of original license cost.

This means that you will simply re-purchase another license for your NOD32 at expiry of your Educational or Student license.

Our best value for money is always found in purchasing the TWO YEAR OPTIONS available from this website.

For Linux pricing, please contact us.

As with all NOD32 licenses - if you purchase a license, you can use either version 2.7, v.4.2 or v6.0 when it is released).
Please login (or create) your educational user account to view educational licensing details.

Educational products are only visible when logged into the online store as a qualified educational user..