NOD32 Enterprise Edition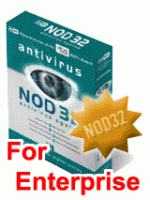 NOD32 Enterprise includes Remote Administrator (RA) and the ability to run your own update mirror.

A package which includes NOD32 antivirus system and NOD32 Remote Administrator for deploying and managing NOD32 in both small and large enterprises.

During August - Order 25 seats or higher of a 2 year NOD32 Enterprise license and get 6 bonus months FREE! All 2 year licenses are cheaper per month than one year - get the very BEST value for money!


Enterprise Availability
NOD32 Entrprise Edition consists of AntiVirus. and NOD32 Remote Administrator.
Enterprise License Purchases can be made by contacting us - we will issue you a login and password to purchase online.

Standard versus Administrator version: the Administrator version has additional functionalities. It is meant to be used in the LAN / WAN environment as it supports creation of copies of the update files so called "mirror". The Administrator version requires a purchase of a Corporate / Multiuser license. NOD32 Control Center

The NOD32 Control Center is the central management module. It provides access to the various features, tools and settings and fully integrates all installed system components. These are categorized into four different sections, each of which can be expanded into an easy-to-use directory tree style system. For increased security, the key settings can be password protected to prevent unauthorized access and modification.

Key Features Include
Centralized management of the resident antivirus modules and filters.
Intuitive directory tree style system for easy access to:

Automatic, internet/LAN Update module
Centralized system of log files for all installed modules
AMON - resident on-access monitor
NOD32 - on-demand scanner
IMON - Internet monitor - scans e-mails incoming via the POP3 protocol
EMON - complementary e-mail scanner module - scans e-mails incoming via MAPI interface (details below)
Flexible task scheduler and planning module
Quarantine directory
Key system information
Remote Administration - Features and benefits:
centralized NOD32 antivirus management increasing antivirus protection effectiveness and reducing corporate security costs
automatic NOD32 antivirus system updates keeping your corporate network secure
fast virus infiltration localization and virus clean-up, thanks to advanced monitoring and reporting tools
remote installation of NOD32 client antivirus systems enabling fast antivirus protection rollout
centralized NOD32 antivirus management of multiple locations and LAN's within your enterprise computer network
automatic and custom report generation giving you an overview on NOD32 antivirus system activities and helping you maintain a high level of data integrity in your network
remote NOD32 client configuration reducing administration and maintenance costs
filling holes in your antivirus protection by searching for unprotected computers in your network
RA server load distribution increasing scalability
multiple remote installation methods for on-line and off-line NOD32 client installation
mobile user features for better mobile user antivirus protection
virus infiltration history helping you strengthen your antivirus protection strategy

During July - Order 25 seats or higher of a 2 year NOD32 Enterprise license and get 6 bonus months FREE! All 2 year licenses are cheaper per month than one year - get the very BEST value for money!




NOTE: Small Business Bundles come with Enterprise Exchange, and Enterprise Packs do not.
Showing 1 to 16 of 16 (1 Pages)