NOD32 Government Licensing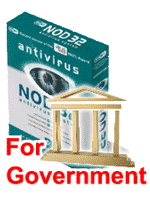 Government can purchase NOD32 at reduced rates (proof of Government status will be required to process your purchase).

You must be able to provide proof of Government status. Your Proof of Government status will need to be emailed or faxed to us prior to your purchase being completed!

Pricing for Governments
Bona fide Government entities are entitled to purchase NOD32 licensing at 50% of retail pricing!

Please complete an online contact form and we will be more than happy to provide you a customized quote.

Information we will need to quote you effectively:

1. number of workstations
2. number of mailservers (and operating systems they run)
3. number of email users you need to protect

if you do not require enterprise features, just the number of workstations + servers are required.

Licenses under 5 copies can be purchased below.

---
Proof of Government Status will be required!
In order to purchase a NOD32 at Government pricing levels, you must provide us with proof of your Government status.

You may place your order NOW - and provide your proof of status as follows, WITHIN 7 days! Failure to provide proof of status within 7 days and we will contact you to ensure that proof was sent. Proof of status not received in 14 days and we will cancel your non-profit order.

Proof of Government status is very easy to provide - either of the following are valid proof to obtain Government licensing:
Order with your government email address.
Provide a letter on government letterhead from supervisor.
Provide a government id card.
No other proof is acceptable; no exceptions.

You will either need to FAX this proof of status to us:
NOD32 Fax Line: +1-970-593-6257
or email a scan of the same proof to:
Please include your ORDER NUMBER so we can expedite your order processing!
For Linux pricing, please contact us.
Please click here to view government licensing details..