NOD32 Home User Multi-Packs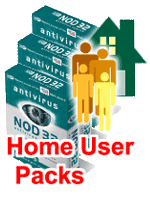 2-4 User Home Package
NOD32 antivirus for Windows 95, 98, ME, NT, 2000, XP and Vista - includes 1 year of NOD32 program and NOD32 virus definition updates.

This NOD32 license delivery is via Electronic download - your software license will be sent to you via email after order processing along with the download location of the full commercial software version.

This package of 2 - 4 workstation licenses is designed for home users - it does NOT include the administrator version of NOD32, but allow you to use NOD32 on 2 to 4 separate home machines.

Home User Multi-Packs are for HOME AND HOME OFFICE USE ONLY

If you need NOD32 Multi-Packs for your NON-HOME OFFICE Business, please click here.
Showing 1 to 8 of 8 (1 Pages)