NOD32 Military Licensing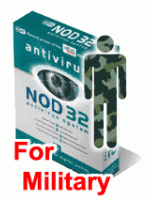 Active Military Personnel can purchase NOD32 at NOD32 Discounted Military rates (proof of status will be required to process your purchase).

NOD32 Military Discount: You must be able to provide proof of active military status.

Your Proof of status will need to be emailed or faxed to us within 7 days of your order being placed!
Proof of Active Military Status will be required!
In order to purchase a NOD32 at military discount levels, you must provide us with proof of your active military status.

You may place your order NOW - and provide your proof of status as follows, WITHIN 7 days! Failure to provide proof of status within 7 days and we will contact you to ensure that proof was sent. Proof of status not received in 14 days and we will cancel your military order.

Proof of military status is very easy to provide - either of the following are valid proof to obtain discounted licensing:

1. for active goverment personnel - government issued ID card (must be current)
2. for military personnel - a letter signed by one of your superior officers will suffice

You will either need to FAX this proof of status to us:

NOD32 Fax Line: +1-970-593-6257

or

email a scan of the same proofs to:
Please include your ORDER NUMBER so we can expedite your order processing!
We understand the need to cover up certain information - Photo, Military Branch and Name are required though!
For Linux pricing, please contact us.
Please click here to view military licensing details..