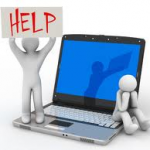 Try our remote support services!
FASTER, CHEAPER, SAFER!
AND…. all performed in the convenience of your own home from our office!
We have you install a 'one time use program' into your computer and that allows one of our technicians to work on your computer by logging into your PC.
We offer several types of remote support services to help your PC run the best it can!
Our Technicians are

American & US Based

!
Computer Security Solutions' offers Remote Computer Support Services saves you time
– most computer repair shops require you to bring in your computer and leave it with them. We access your computer wherever you are. This makes our work easier, faster and cheaper – plus, you save gas (and the planet)!

Watch while we work

– Feeling a bit insecure about what they are doing with your files of important documents and personal photos? Not worry with us as you are free to watch us work on your machine!
Saves you money
– Extends the life of your PC or costly repair bills
Step 1. Buy any of the support services below by clicking on the

button next to the service that you want and checkout of our online store. Step 2. Call our office to schedule the computer support service when you can be in front of your computer 877-886-6332 Step 3. Be available at appointment day and time by phone for our technicians to contact you to get started! Step 4. Enjoy the increased performance of your PC and tell your friends about us!
We are an American company that is located in Colorado and all our staff and technicians are American & US Based!
*This is a prepaid service. You must be able to get connected to the Internet without dial ups. If you have a dial up connection, please make arrangements to take your laptop to a faster location so the service can be performed.