We're giving away FREE ESET protection!!
Holiday giveaway time… all you facebook friends and "fans" – or is that "likers" and "recommenders"? We have something we're giving away – and you will be giving it away also.. this is something for someone ELSE in your life… (or you can ask them to reciprocate and give it back to you… )
Click here to visit our page on Facebook
– recommend us – post your friends names on our wall to enter them – tag them in the photo of our free giveaway (the photo underneath) – each friend you tag gets entered – and every visitor who shares or recommends the competition is entered to win a license as well!! So – we'll give AT LEAST one license to a friend per day – and at least one license to someone who is doing the sharing.. if you share and your friends share back – you get double the chance to win… yay!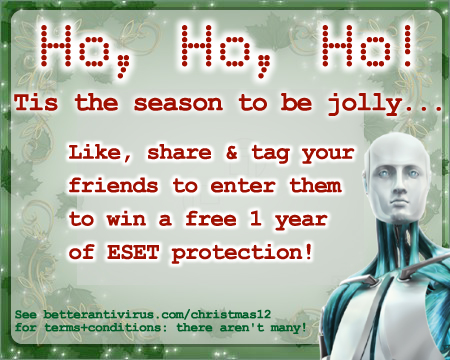 So share and tag away – tag a friend who has a
NEED
for a free license of ESET antivirus – or ESET CyberSecurity for Mac – tis the season to be jolly….
---
The rules are: The more friends to tag and tell us need a license – the more change you have that one of your friends will get the giveaway that day… – Only one prize per person during the remainder of the season. – If your friend doesn't win today, you can enter them AGAIN tomorrow – and every day until they either win, or we hit the end of the giveaway season. – We reserve the right to give away MORE stuff just because we want to. – The winner will have the choice of a 1 year ESET NOD32 Antivirus or a 1 year ESET CyberSecurity for Macintosh – no other prize, no substitution and no cash substitution allowed. We will give away at least 2 licenses every day – up to- and including, January 31st, 2012. Entries from the previous day are "spent" – to enter every day, you must tag/share every day.